💡 Notice
Postech AMI Lab (PAMI) is looking for self-motivated prospective Graduate students &
Undergraduate research program participants.
If you are interested in joining AMI Lab, please send an official transcript and CV to this email .
AMI Lab에서는 열정 넘치는 대학원 연구원, 학부 연구참여 학생을 모집하고 있습니다.
AMI Lab에 관심 있으신 지원자 분들은 입학 및 연구참여 담당자에게 공식 성적증명서와 본인의 CV를 첨부해 먼저 연락해주세요.
---
📕 Publication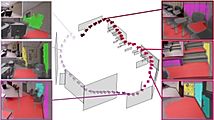 Linear RGB-D SLAM for Atlanta World
-
ICRA, 2020