Information about computer vision and machine learning academic field

- Top-tier conferences
: CVPR, ICCV, ECCV, NeurIPS (NIPS), ICML, and ICLR are considered high prestigious and top-tier conferences, which have greater impact than most SCI journals. According to Google scholar metrics, all these conferences are listed in the top 100 publications across all academic fields. Out of them, CVPR is the 10th rank among all academic fields, e.g., Cell journal is just the 9th rank. In terms of acceptance rate, oral presentations are about 4% and poster presentations about 20%, i.e., highly competitive. 

- Top-tier journals
: IEEE TPAMI and IJCV have among the highest impact factors across all computer science categories. As of 2019, the impact factor of TPAMI is 17.730.
International Journal
2020
2019

Globally Optimal Inlier Set Maximization for Atlanta World Understanding
Kyungdon Joo, Tae-Hyun Oh, In So Kweon, Jean-Charles Bazin
IEEE Transactions on Pattern Analysis and Machine Intelligence (TPAMI), to appear.
[Project page] [IEEE Xplore]

Gradient-based Camera Exposure Control for Outdoor Mobile Platforms
Inwook Shim, Tae-Hyun Oh, Joon-Young Lee, Dong-Geol Choi, Jinwook Choi, In So Kweon
IEEE Transactions on Circuits and Systems for Video Technology (TCSVT), 2019
[Project Page] [IEEE Xplore] [arXiv]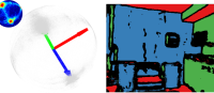 Robust and Globally Optimal Manhattan Frame Estimation in Near Real Time

High-fidelity Depth Upsampling using Self-learning Framework
2018
2017
2016
2015
2012
International Conference
2020
2019
2018
2017
2016
2015
2014
2013
2012
Other International Conference
Patents(International Only)
Apparatus for controlling exposure of multi-view camera, system including the same, and method for controlling exposure of multi-view camera.
US Patent App. 15/367,041, 2016, German No. 102017201286.2, 2017
Generating semantically meaningful video loops in a cinemagraph. US Patent 9,779,774, 2017.
Automatic generation of semantic-based cinemagraphs. US20180025749A1.
METHOD AND APPARATUS FOR DETECTING SMOKE FROM IMAGE, US Patent App. 2015/0030203 A1.
Method and system for detecting matrix-based motion including frequency transform and filtering, US Patent App. 13/760,578, 2013.​